See on Scoop.it – Engaging Sales Conversations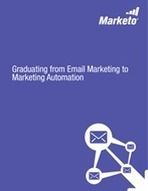 We'd like to show you what marketing automation can do for you and help you decide if your organization is ready to graduate to a marketing automation solution.
Nett Sales's insight:
Yesterday we posed a question on whether email marketing is dead? Arguably it does not work and should not attract any marketing or sales budget. If you want to graduate from Email Marketing to content led marketing that 'presents 'something fro you' (the reader) this is for you. You will then master deliver messages by email AND engaging the interested contacts by telephone. Nett Sales can show you then. heck out this article from Marketo too.
See on www.marketo.com